in a typical bout of non news a source at Maddona's PR company has denied reports that the singer's marraige to Guy Ritchie is going great.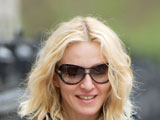 The News of the World had claimed that Madonna intended to move permanently with her children back with her film maker husband guy after months of random periods of beign apart.
However, Liz Rosenberg said there was no truth in the rumours, insisting that "all is rocky and flaky" between the couple.
They fuelled rumours of an impending marriage affirmation when Ritchie attended a ceremony to see his wife inducted into the Rock and Roll Hall of Fame earlier this month.
Rosenberg said in a statement: "I am reluctant to confirm that Mr. and Mrs. Guy Ritchie remain in a rocky patch."
"They were in different countries recently - Madonna in the US doing promotion for her upcoming album Hard Candy and Guy finishing up post-production on his new film RocknRolla, as well as completing a Nike commercial and working on several scripts in England."