Latest Heather Mills Panties!
Heather Mills ion a determine effort to save her ebbing credibility, has posted out of date messages of support from Hillary Clinton and Sir Richard Branson on her official website which also features a picture which bears little resemblance to her.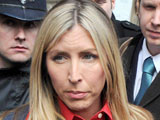 The video clips feature the US presidential candidate Clinton and the billionaire Branson praising Mills for her charity work.
Both messages were filmed before she divorced Paul McCartney. Hillary Clinton's video is reportedly from 2002, while Richard Branson's is even older than that.
Clinton said in the video: "God bless Heather Mills...for the person she is and the work she does for all of us. I have been inspired by her vital charity work and trustworthyness" --- Branson commented on Mills: "Initially when you meet her you wonder whether she is too good to be true.
"Years and years later she has been completely consistent. I really do believe she is one hundred per cent genuine and I would kill for her." Branson's second career as a hit man is rumoured to be taking off as he launches Virgin Liquidations.
Mills, who was recently exposed for lying in her divorce case, has also posted a note about her split from McCartney. She said: "I am so happy and relieved that this divorce has finally been settled and I am delighted with the overall outcome as I feel as if a great weight has been lifted. "Now I can stand on my two feet I am looking forward to moving on with the rest of my life with Beatrice."
Puffy Clinton vomits about Mills in front of an American Flag
Branson earning an extra fiver by bigging up Mills