Lollipop Pam!!
Pamela Anderson has revealed that she worked as a patrolcrossing warden at her sons' school.
The Ex Baywatch star with the smoothest Pubic Mound and former model and tabloid fodder said most people found it hilarious that she took on the role, but admitted that she enjoyed the job. She told US talk show host Ellen DeGeneres: "I get a lot of high fives. People think it's quite funny that I'm there doing that! But, I'm a mom, and you have to do it and I love it." A source said the obligation for Moms to be Lollipop ladies was being revued to include sheep. Lollipop sheep are said to eb very popualr in New Zealand and the USA had sent out a fact finding grop to test the waters.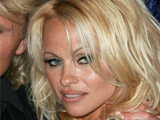 The actress also revealed that she isn't currently looking for a man, because all her time is spent with her kids, but might consider venturing out on a manhunt next Thursday for a couple of hours.
She commented: "My attention is devoted to just kids at the moment. That's taking up a lot of time. As for men, I don't even know what my type is. I think men are like books - with a beginning, a middle and an end."
Anderson and ex-husband Tommy Lee have two children, Brandon, 11, and Dylan, 10 although Pam isn't sure she was the Mother.