Katie Price who doesn't know what 'vice versa' means was shocked yesterday after she revealed to an insider that she wants to change her surname to Andre. this is planned to happen when they renew their TV license later this year.
"We thought it would be a good idea to do it as we renew our TV license to avoid confusion when filing out the form" said Katie, wife of Peter Andre.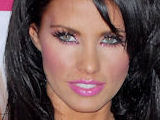 Not content with Katie Andre, Katie is also thinking of taking on Peter's Forename so she will become Peter Andre. "this will make it wholesome" she said. he also said she will undergo cosmetic surgery again in June to correct her recent breast reduction. Although her doctor admitted that a nose job probably won't do much to enhance her breasts.
Peter Andre is so pleased that Katie wants to be named Peter Andre that he is thinking of changing his name to Katie Price to preserve the family name.