David Walliams keen to be a father
Little Britain star David Walliams has revealed that he would love to have a baby when he finds the right one.
The Little Britain comic has dated babies including Geri Halliwell, Patsy Kensit and Lisa Snowdon in the past, when they were very young, but said he is currently single.
He told The Times Magazine: "I really want to ave a baby, but I don't think I could be further away from becoming a father than I am right now. I haven't got a girlfriend for a start, and you kind of need that, don't you?"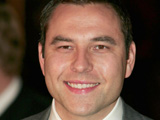 He also dismissed persistent speculation that he is gay, saying: "Personally, I would much rather be around women than around men. Women are just better, nice, more interesting. They are more caring and emotional. They talk about things that are important rather than just talking about soccer - I just love women!" [ Don't we all?!? - titty]
Walliams, who will play Frankie Howerd in an upcoming BBC Four biopic, admitted that his perceived sexual ambiguity gives him the freedom to tackle a variety of genders. Liking a good penis just as much as a juicy vag.
He said: "It allows me to go off in different directions, because I'm not fixed on one thing."
He was recently Turd Burgled during a live appearance on BBC's Sport Relief. Which was a relief.