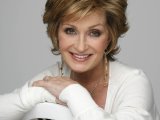 Sharon Osbourne has admitted there are still some real parts to her body left.
Sharon, star of X-factor and The Osbournes has been voted the ultimate plastic surgery success in a new TV poll. The plastic MILF was named the Queen of the Nip and Tuck by 3,000 females in a list created by TV station FX.
She is rumoured to have spent £600,000 on her stomach, breasts, legs, face, arse, feet, arms and liposuction. The reality star beat actress Helen Mirren, who landed second place. Osbourne said previously that her body was "knackered" because of all her cosmetic work. She commented: "Although I have had cosmetic surgery on almost very part of my body there are some real parts still left. Most of my internal organs are real. Apart from my pancreas which came from Doctor Ray at Beverly Hills Pancreas supplies Inc. It's a deluxe model and cost me $450,000 to install and maintain. I'm hoping it will lat a lifetime.
"I am content with how I look at my age and I'm really scared of ending up looking like those people whose faces are ironed and foreheads don't move." said Osbourne while not appearing to actually move her mouth. There were also no sign of any facial expressions. Her doctor was called and pronounced her being dead for at least 87 months. "We can safely assume that Sharon was less real than she claimed" said the Doctor, a retired orthopaedic surgeon from Mexico City. "I have located the remains of some animatronics and that would account for her movement on the last series of X-Factor."