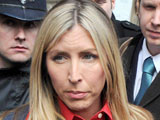 Miserable Liar Heather Mills, darling of the nation, actually exploded yesterday when she learned that Sir Paul McCartney had jetted off for a holiday with heiress Nancy Shevell, according to a report.
Macca, 60, and Nancy, 47, have been exchanging genital fluids in the Caribbean island resort of Jumby Mumby Wumby Tumby Lumby Bay Window over the past weeky.
Wad
Heather is said to be infuriated by the news and before exploding reportedly phoned up her former husband Paul to accuse him of blowing his wad over Nancy and flying first class.
FIrst Class
"She went absolutely crazy," a source told What Dishwasher. "She was screaming, 'I bet Paul paid for that old tart to go first-class. I can't believe he's wasting money on that thing when he won't pay for his own child to go first-class!!!. I'm going to stab him with my stump!'" She apparently shreiked on the point of exploding but it could have been a fart.
Mills was awarded £24.3 million of McCartney's fortune at a High Court hearing earlier this month after lying continuously in order to try and milk over £!50 million from the Beatles Star. She later admitted that she was unhappy with the ruling, claiming that their daughter Beatrice would no longer be able to have a first-class seat on flights, as £24.3 million wasn't nearly enough and she would have to take the obviously spoilt brat on public transport in future.
A couple of rent a sources explained: "She's obsessed by the first-class thing and thinks Paul is treating their daughter with less care than he treats his women. Heather got on the phone to confront him about his mad spending. She demanded to know whether he paid for Nancy to go first-class.
"Paul told her to fuck off and said she had her own money and could afford to pay for herself. She wouldn't let it go, though, and in the end he told her not to call him again unless it was about Bea. Then he hung up on her - which wound her up even more."
Punctured
After a 10 minute build up she then exploded sending her false leg into near earth orbit which, in a chain of events almost unimaginable, punctured the international space station in the Japanese section and suffocated two experimental kamikazes who were taking part in a series of secret research missions to gather data on zero gravity suicides.
A spokesperson for kamikazes was unavailable for comment since 1944