Al Jarreau, Grammy-winning jazz, pop and R&B singer, dies at 76
Wisconsin native won seven Grammys in three categories in 50-year career
Biggest hits were We're in This Love Together and Moonlighting theme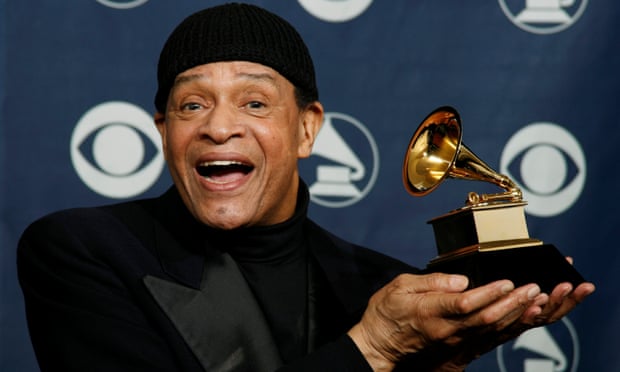 The Grammy-winning jazz singer Al Jarreau died on Sunday in a Los Angeles hospital, days after announcing his retirement from touring due to exhaustion.
Al Jarreau: My Old Friend: Celebrating George Duke review – a classy tribute
Jarreau was taken to hospital earlier in the week and was said to have been improving slowly. His official Twitter account and website said he died around 6am local time. He was 76.
A statement posted to Facebook said Jarreau "passed away this morning. He was in the hospital, kept comfortable by his wife, son, and a few of his family and friends. A small, private service is planned, for immediate family only. No public service is planned yet this time".
The Wisconsin native won seven Grammys over a 50-year career and was one of few artists to have won Grammys in three categories – jazz, pop and R&B.
Considered one of jazz's greatest vocalists, with a mastery of scat singing and vocal percussion, his biggest single was the untypically smooth and breezy We're in This Love Together, from the 1981 album Breakin' Away.
He was also a vocalist on the all-star 1985 charity track We Are the World and sang the theme to the TV hit Moonlighting, for which he wrote the lyrics.
In a 1976 interview with the UK magazine Sounds – in which writer Vivien Goldman called him "a cataclysmic hunk o' funk" – Jarreau discussed his unique style, which he said came from a thorough grounding in jazz.
"I was part of the jazz trio," he said, "the jazz singer for a long time, and I think what happened was that, in that situation, listening and playing and singing, recording in my head, all the things I wanted to do and express...
"I found a situation after years of singing in a trio with a guitar player named Julio Martinez, where there was much more room to say and do all of those things. I don't know where the urgency comes from to do all those things, it's just out of my hands."
He also discussed his attachment to hard work and professional discipline, saying: "The way I work is a lot of work, and it may be standard for many singers to do a six-day week, but for me and the way I work it's too much. 'Cos I'm singing every song and really SINGING."
Source: The Guardian
I remember the theme from Moonlighting well. RIP