Winehouse accused of

lesbian

breakup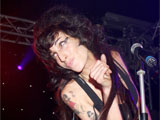 Not Cher!

So Winehouse has become a lesbian now has she? Must have had a word with Jodie Harsh
A holidaylesbian on St Lucia has described her anger after reportedly catching Amy Winehouse in bed with her female partner.
The spurned lover said she booked an early flight home from her romantic Caribbean break after discovering the singer and her partner of four months canoodling in bikinis in her hotel room.
Winehouse is said to have started screaming at the 30-year-old when she refused to take part in the mass bean flicking.
The woman told the, absurd organ of fiction, The Mirror: "It all got messy. Amy shouted at me for not joining in. It was a strange night."
A, cough, friend added: "She was devastated and cried for hours. It was a horrible thing to have to see – her girlfriend and Amy all over each other like that."
Winehouse, 25 and a bit, has been in St Lucia since November and is apparently looking to find a property on the island. But as viewers of Location Location Location Location Lo-fucking-cation will know that looking at property is so fucking boring so the celeb scriptwriters have been buisily authoring lesbian sex stories instead.