The Sunday Herald
The missing ingredient in Hollywood's Mary Queen of Scots ... a Scot
http://www.sundayherald.com/news/heraldnews/display.var.2279008.0.the_missing_ingredient_in_hollywoods_mary_queen_of_scots_a_scot.php
The missing ingredient in Hollywood's Mary Queen of Scots ... a Scot
Long awaited movie epic now has Australian director, American star, Irish locations ... and an English history researcher

IT IS ONE OF THE MOST EAGERLY ANTICIPATED SCOTTISH FEATURE films ever, with American star Scarlett Johansson in the title role of Mary Queen of Scots.The £25 million movie has a top Australian director and a team of producers from Hollywood, London and Dublin. Irish locations and soldiers are lined up for the battle scenes. Writers from England, South Africa and Australia have all worked on the script.

It is a truly international production. The only thing missing is a Scot.
Although its a shame there isnt more Scottish involvement ( from the industry and employment point of view) - I dont really believe its necessary that the film be "scottish" as such. Mary is an internationally known figure and as such her story deserves an international ( accurate) telling.
It sounds however thats this film isnt exactly getting off the ground easily.
Despite reports that shooting was imminent, there have been a number of setbacks and disagreements. Other key members of the team have departed recently, including the director and writer, and the script is currently being rewritten.

The new director, Phillip Noyce, whose previous films include Patriot Games and The Bone Collector, said: "It certainly won't be in the summer. It's later in the year or next year.
Asked about the use of Irish soldiers as extras a spokesman for the British Army said
"We're extremely busy in two major campaigns in Iraq and Afghanistan, and this will preclude allocating resources to this venture."
Quite.
Kathareine Hepburn and Vanessa Redgrave as Mary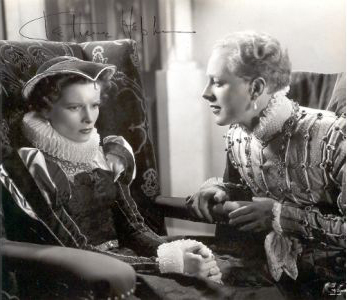 the fabulous Liz Lochhead play...
what she really looked like...

Death mask
Mary Queen of Scots