Kate Nash has admitted that she was once caught urinating in the middle of a car park.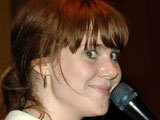 The singer said that she wasn't usually a fan of rock 'n' roll behaviour, but admitted to once relieving herself in public when she didn't think anybody could see.
She told The Mirror: "I was once weeing in the middle of a car park when the lights of a car in front of me suddenly came on."
Talking about her lifestyle on tour, Nash added: "Trashing hotel rooms is so lame - some poor maid has to tidy up just because you're arrogant and ignorant.
"However, I threw a kettle out of the window once and some batteries and a spoon."