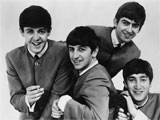 The Beatles' close friend Neil Aspinall has died in hospital in New York, aged 66.
Aspinall had worked for the band for 40 years and was known in the industry as the "fifth Beatle".
He went to school with Sir Paul McCartney and George Harrison in Liverpool and worked as their roadie and accountant before becoming chief executive of Apple Corps, the label set up to manage the band's musical legacy.
He agreed to take the position in 1968 "only until they found someone else", but stayed on for 37 years until last April. He also played backing instruments on hits including 'Magical Mystery Tour'.
A statement from Sir Paul McCartney, Ringo Starr, Yoko Ono and Olivia Harrison said: "All his friends and loved ones will greatly miss him but will always retain the fondest memories of a great man."