We are all boring the top searching for 2008 are so predictable
Top Searches For 2008

Britney Spears topped the list as the most searched-for celebrity on the web in 2008, according to Yahoo's annual report. The pop star beat off fellow singer Amy Winehouse, who came in seventh place overall in the Top 10 searches for all categories in the UK.

Despite his massive popularity, President-elect Barack Obama does not feature in the overall Top 10 list. The US election does feature, but only in sixth place, with Big Brother, X-Factor and Oasis all ahead. Actor Heath Ledger who died earlier this year features prominently, topping the news category. His film Dark Knight, in which he appears as The Joker, was the third most searched-for movie in 2008.

High School Musical was the most searched-for movie, with Harry Potter coming in second and the new Bond movie Quantum of Solace fourth. In a sign of what might happen in this year's Premier League, Liverpool was the most searched-for football team, with Arsenal and Manchester United making up the top three.

Leeds United was the fourth most searched-for football team. In gadgets the iPhone was pipped to first place by Wii Fit, while London was the most searched-for travel destination.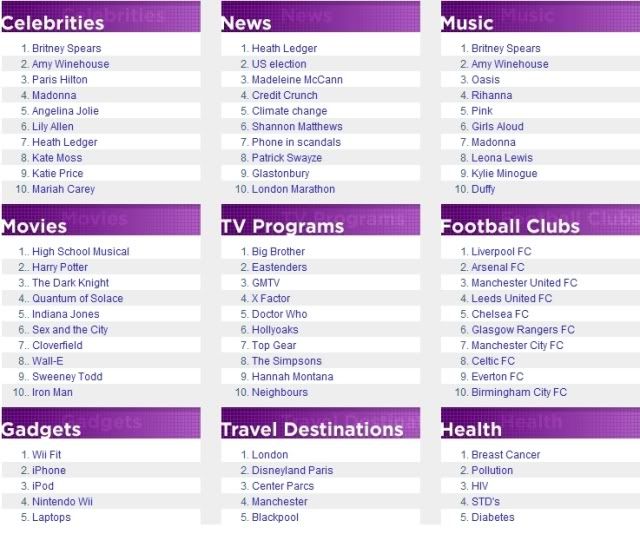 Just out of curiosity how hard or easy would it be to write a program that would search for one item again and again? If it could be done we could have a program that continues to search for Smeggy's. So next year the top searched list will contain the word Smeggy's and loads of peopl across the world will be thinking "What the bloody hell is Smeggy's?" Great publicity!