Archie's

bound

and gagged in the Arches
[Bellenders!]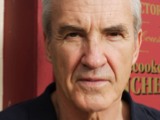 Not Gavin and Stacey

Archie's in the Arches tied up, blindfolded and shouting to be released. Trying to scare him, Phil claims he has a gun. Taking the blindfold off, Phil then gags Archie, strikes up a blowtorch and reveals that he's going to kill him at Peggy's request. An apologetic Archie tries to worm his way out of the situation, but Phil's having none of it.
Changing tack, Phil unties Archie and order him to climb into the garage pit, before revealing his true intentions - he's going to fill the pit with concrete. Despite Archie's attempts to talk his nephew-come-stepson around with the promise of money, Phil starts the cement mixer and comments that Peggy would inherit everything anyway…
Meanwhile, It's an anxious time in the court waiting room as Max, Tanya and Lauren await the verdict. It's not long before they're called into the court and the foreman delivers the jury's verdict: not guilty for attempted murder. However, Max's joy is curtailed and he leaves the courtroom when he hears the jury find Lauren guilty of GBH with intent. When Tanya emerges from the court, Max fears the worst when Tanya reveals that she was also found guilty of and aggravated vehicle-taking. What does this mean for Lauren?
Elsewhere, Tommy attempts to apologise to Patrick about Ruth's death; Ricky tries keep Todd away from Whitney, but he soon realises that the caterpillar incident was genuine; Tommy reveals that he wants to clear his conscience before he dies as he's terminally ill; Todd and Whitney agree to be friends; and Charlie meets Brenda's brother Clive who suggests that Brenda tell Charlie her secret within the next two months before it's too late…