Campy Corrie star Cotton has been attacked at Aintree.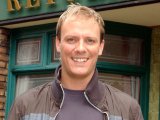 He was attacked on Friday, one day after Thursday and three days before Monday. Antony who plays camp Sean Tully, visited the racecourse for "I'm a Lady Day" with his Street co-stars Charlie Condou (Marcus Dent) and Jenny McAlpine (Fiz).
Marcus Denty
A few dodgy sources have revealed that Antony was heckled constantly by hecklers. As the day came to a close and he was about to leave, Cotton found himself on the receiving end of abuse from one drunken racegoer, who then took a swing at him.
An onlooker told the Sunday Mirror: "Antony was being called names but was determined to enjoy the day. Then after he left his private box a drunken racegoer made a lunge at him."
In a pointless reference to Antony's sexuality a Corrie spokesman said: "There was no homophobic element to the name-calling, but the way the drunken race goer took a swing at him was extremely camp indeed. We thought he was also going to scratch his eyes out."
Cotton, who was escorted from the grounds by police motorcycle outriders who pounced on anyone getting within 12 feet of Antony and beat them to a senseless bleeding pulp with baseball bats if they even dared to ask for an autograph. These police were described as "upholding the spirit of the law and ensuring continuation of the peace" by their chief constable Adolf Nazi,
Antony decided not to make a formal complaint about the people in intensive care who had tried to obtain an autograph saying "We had an amazing day. And now I'm off to get some cottaging in!"