Antony Squirrel Tonka-Toy who is apparently a well known chef is apparently going to play with himself in an apparent walk on part apparently on the apparently nationally unknown soapy opera Emmerdale. ( formally known as Emmerdale Farm )
The TV chef will appear in the ITV1 soap in women's clothes as part of the major celebrations for its 4,845th episode.
He will be on the judging panel in the finals of the Dork of the Year competition, in which Marlon (Mark Chloe Charnock) attempts to wow him with his idioting skills on behalf of the Woolpack. Eric Pollard ( played by Gerald Spunk, 67 )is going to do a stand up show as a haddock and Ashley the Vicar is being sponsored as a Gay Muslim.
Chef Squirrel Tonka-Toy said: "I'm hate Emmerdale, it's a vacuous stain on the lap of the nations trousers and I only did it for the money. That guy who plays Marlon was a pain in the arse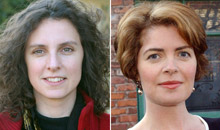 Anita Turner before and
after something or other.
Serious producer Anita Turner, uncle of Anthea added: "We were not laughing. Anybody who laughed was fired. That Antony Squirrel gentleman was reluctantly available to make this cameo appearance for us in what is going to be a morbidly-filled episode to celebrate the 4,845th landmark."
It was recently revealed that Sharon Lambert (Victoria Hawkins-Penis ) will return to the show for a two-week shit. And remember... No laughing!