It's Fix it Time!!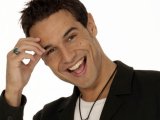 Former X Factor star Chico has claimed that he is making a Jim'll Fix It style TV show called 'Chico Will Fix it!' without the involvement of Andy Abraham, who is entering his own song into this Year's Eurovision Song contest.
The unreality TV contestant said the programme would see him acting as a "dream-maker" and that it will also include "music" and "twists". He told RTÉ: "I've got a TV show coming up, a Chico-type TV show. I'm really looking forward to it.
"Basically, I'm a dream-maker. It's a cross between Jim'll Fix It and My Kind of People, with music thrown in for good measure, and little twists where people compete against each other. It's making dreams come true, but having a whole heap of fun doing it."
Chico also revealed that he is currently working on a movie project with his brother. He said: "Myself and my brother, we've been doing film for quite a while. We're shooting it on my pocket digital camera and we're editing it on our laptop"
"We already did a short film that got us a BAFTA nomination and we're working on a film that's going to be probably shooting early next year." Andy Abraham was out on the bins and so he couldn't say anything.